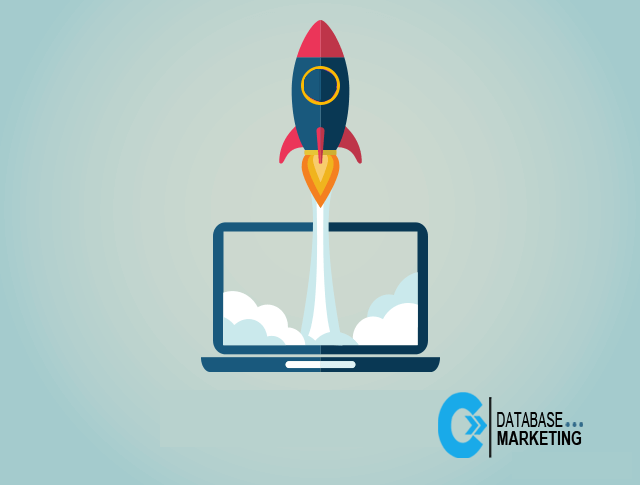 With competition as fierce as ever, every dollar put towards marketing NEEDS to count! Your hard earned revenue needs to be put to good use, and on growth tactics that are measurable, scalable and high yield.
Enter email marketing. Sure, it's not the next new shiny strategy, but how far have you gotten by chasing the next "trend" that is here today and gone tomorrow?
Not convinced? Let's take a look at why marketing to targeted email lists for consumers or businesses is a strategy your company needs to implement ASAP!
1. Email is Global
Last year email was used by more than 3+ billion individuals worldwide. This equates to almost one-half of the world's population. If you're doing business in the developed world and NOT using email, you're missing out on a critical "touch point" in your marketing mix.
2. Email is NOT Dying
Every single day over 200+ billion emails are sent and this is expected to rise to around 250 billion by the end of 2019. So not only is email still one of the world's most highly utilized forms of communication, its projected to keep growing.
3. Return on Investment
Email, on average, outperforms almost every single other marketing channel. In fact, for every dollar you spend on email marketing, you can expect an average return of $38. That is a MASSIVE 3800% ROI.
4. Predictable and Sustainable Growth
Unlike ad campaigns that fluctuate in costs based upon supply and demand or increased competition, or ever-fluctuating algorithms of organic rankings and traffic, email is consistent.
This means predictable outreach and growth without fear of increasing costs.
5. Other Mediums Can't Compete
Social is all the rage in marketing, but if you are looking for a direct way to engage and interact with your audience, you just can't beat email marketing.
Why? A recent Forrester research study found that your target audience is more than TWICE as likely to register to your email list than they are to interact with you on Facebook.
But what about search and display traffic? Not even close. Both search and display can't hold a candle to email. Not only are both more costly, email boasts a conversion rate higher than BOTH combined.
Stats: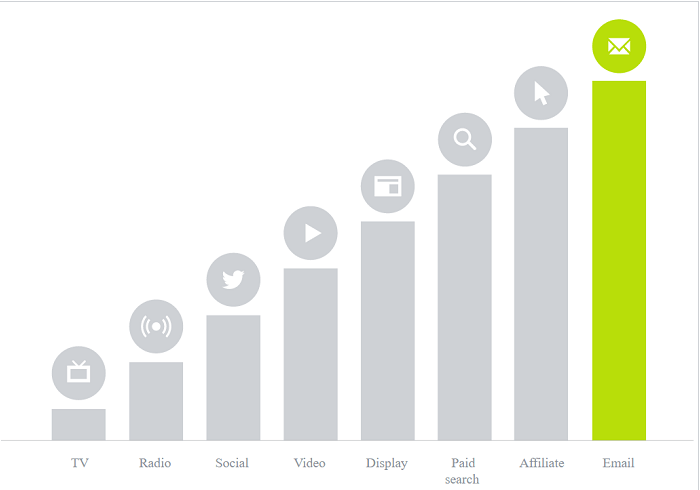 6. Consumers Want to Hear from You
When surveyed, over 61% of consumers reported enjoying receipt of promotional emails on a weekly basis (Marketing Sherpa, 2018). And another 38% said they would like to receive emails on a daily basis.
7. Business Communication Thrives on Email
Research reveals that when it comes to business-related communications and promotions, over 72% of businesses prefer to be solicited by email versus any other form of communication.
Why you ask?
They can review the message on their own time
It is not "in their face" or disruptive like ads
They can multi-task while reading emails
It does not interrupt their daily tasks
Buying an Email List – What you need to know
Now that you're convinced email is a worthwhile marketing endeavor for your business. Where do you start?
You need emails right? Here are your basic options:
Earn opt ins for your business through other marketing channels
Purchase a list from a reputable company
Scrape or gather your own data
When looking for business or consumer email marketing database and lists there are a few things to consider. Let's take a closer look…
1. Earning Opt-Ins through Marketing
Highly targeted
Interested right now
Aware of your brand
Expensive
Hard to scale
Takes time to test and optimize
Growth is slow
2. Scraping / Gathering Data on your Own
More control
No third parties
Possibility to scale quickly
Legal issues related to unauthorized access or scraping of sites
Limitation issues and other prevention methods sties use to stop you
Need for high quality proxies (hard to find, expensive to source)
Data is often inaccurate, old, and incomplete
May need to scrape multiple sources
May need to pay for a third party tool or hire a developer
3. Buying a List or Database
Data is clean
Legal and compliance is taken care of for you
Data is accurate
Pinpoint your target audience
Multiple level of segmentation
Data is up to date
Ability to scale by simply ordering more
Fast delivery means you'll be ready to run campaigns quickly
You'll need to vet the supplier
Legalities and Compliance of Email Marketing
*we're not lawyers but we know a thing or two Despite what you might read from overzealous compliance "know-it-all" online, email marketing can be perfectly legal, as can buying data lists.
In the USA email marketing must comply with CANSPAM regulations. These regulations are simple and so long as you adhere to them and any other applicable rules you'll be fine.
In Short, CANSPAM requires:
Use a valid physical address in every email you deliver
Include a clear and easy way for the recipient to opt out in every email
Honor any unsubscribe request within 10 business days
Use clear and accurate "From", "To" and "Reply to" fields
            "The CAN-SPAM Act doesn't require initiators of commercial email to get recipients' consent         before sending them commercial email. In other words, there is no opt-in requirement"
You get what you pay For
As with anything in life, you get what you pay for when it comes to email lists and data. There are MANY cheap data and email list providers out there that "resell" the same garbage over and over again.
Cheap Providers Often:
Provide false or inaccurate data
Use data that is outdated and no longer valid
Oversell their data to too many customers
Have no quality checks in place
Often don't follow regulations or compliance laws
Deliverability Tips
While an entire book could be written on enhancing email deliverability rates, here is a bullet bullet point list to help you get started:
Personalize your emails to the target individual / business
Split test and rotate subject lines and body text
Limit send rates per carrier
Do not use tracking links in bulk emails
Do not use images in your first outreach to prospects
To no use HTML / use plain text in your first outreach to prospects
Clean and validate your lists prior to sending to reduce bounce rates
Warm up your IPs by slowly increasing send volumes each day
Benefits of Data Appending
Data appending and enhancement is a great way to improve the targeting and accuracy of your data. For example, if your current list only has a name and physical address, you may be able to append an email address or phone number to make the profile/lead more complete and workable.
What can email marketing do for your business?
These email marketing stats and business database insights prove just how valuable email can be for your business.
Whether you want to increase your number of customers or strengthen your relationship with existing customers, email marketing will give you the tools you need.
If you need any further information